Are you searching for the perfect location for maternity of family portraits in Plano, Texas? Look no further than Arbor Hills Nature Preserve. This stunning preserve offers a great blend of modern amenities and natural beauty. It makes the perfect spot to capture your growing family. In this article, we will explore the features and amenities of Arbor Hills that make it a fantastic choice for your next family or maternity session with Loomis Lane Photography. 
Discover Arbor Hills Nature Preserve
Located in the heart of Plano, Texas, on the border of Carrollton and The Colony, sits one of the area's most stunning nature preserves. Arbor Hills Nature Preserve is a true gem that offers a serene and captivating setting for your maternity or family portraits. Spanning over 200 acres, this preserve combines lush greenery, rolling hills, and scenic trails to provide a picturesque backdrop for your memorable photographs.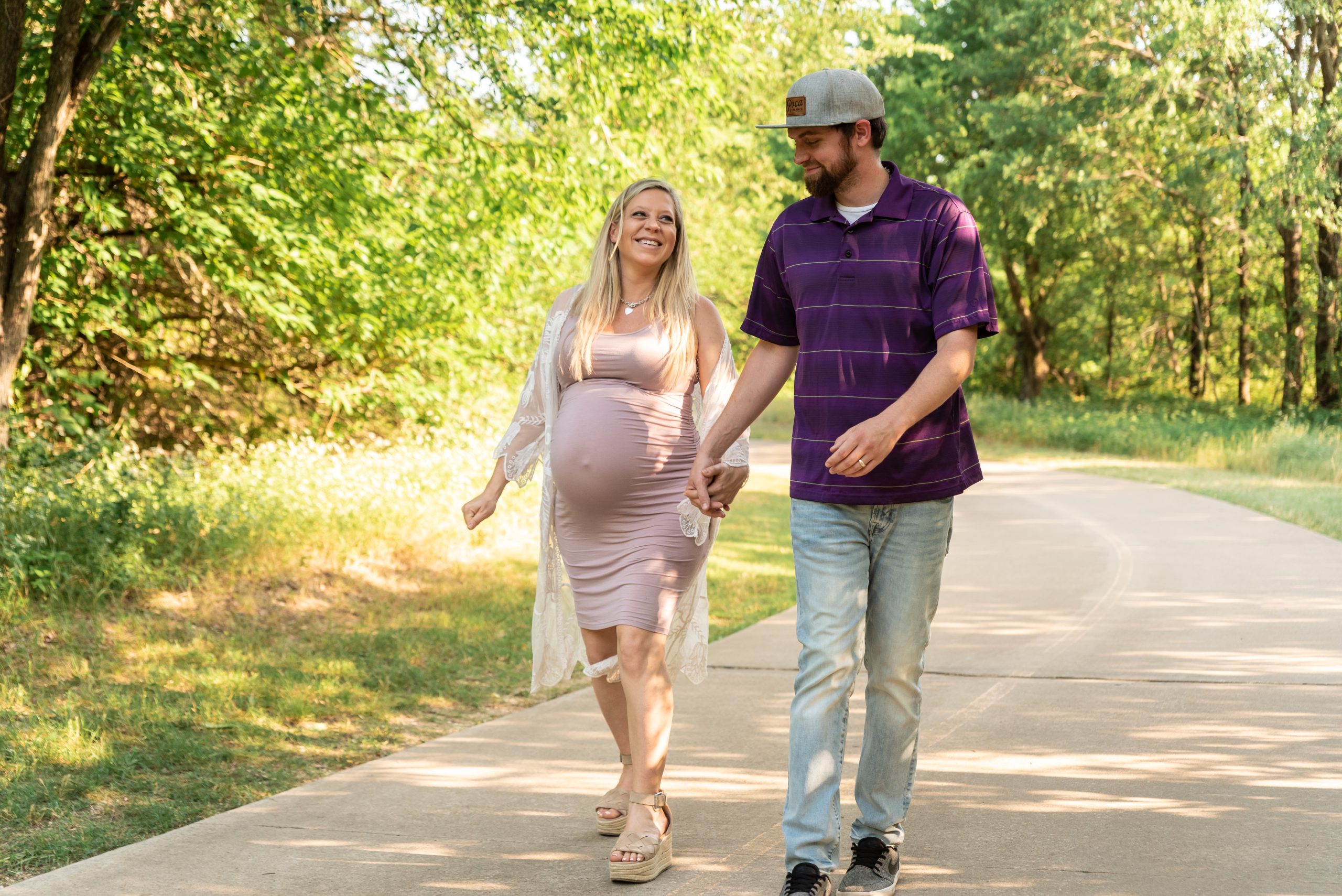 Explore the Amenities of Arbor Hills
Arbor Hills Nature Preserve boasts a range of amenities designed to enhance your experience and aids in making your photo session not only a memorable one, but a convenient one as well. There are public restrooms, a playground, large pavilions, and many benches to stop at for a rest while exploring the trails. 
Public Restrooms
To provide optimal convenience and comfort during your visit, Arbor Hills Nature Preserve offers well-maintained public restrooms. You can freshen up or take a quick break whenever needed, allowing you to fully enjoy your time at Arbor Hills.
Pavilions for Gatherings
If you plan on having extended family portraits taken at Arbor Hills, meeting at the pavilions is the perfect spot. Arbor Hills provides pavilions that can accommodate groups of varying sizes. These shaded areas are perfect for relaxing, enjoying a meal, or simply taking a moment to appreciate the surrounding natural beauty.
Engaging Playground Areas
For families with young children, Arbor Hills is the perfect spot for a portrait session. There are restrooms available and a perfect playground area for little ones and big ones alike. Arbor Hills Nature Preserve features engaging playground areas where kids can have a great time before or after the portrait session. Let your little ones explore the playground equipment and burn off some energy while you capture their joy-filled moments.
Breathtaking Overlooks
Arbor Hills offers several overlook points with one large structure perched on the top of the hill. They provide  sweeping views of the preserve's stunning landscape at Arbor Hills. These vantage points serve as excellent backdrops for capturing panoramic shots or incorporating dramatic elements into your portraits. Let the beauty of nature unfold behind you as your photographer immortalizes these special moments.
Vast Trail System
One of the highlights of Arbor Hills Nature Preserve in Plano, Texas is the extensive trail system that offers both paved and unpaved surfaces. With miles of well-maintained trails winding through the preserve, you can embark on a leisurely stroll or explore hidden corners that offer unique photo opportunities. The trails cater to all levels of fitness, ensuring that you can find the perfect path to suit your preferences and desired backdrop.
Tips for Memorable Portraits

Here is my list of things to consider before your portrait session at Arbor Hills.
Timing is Key
Your session will take place during the best lighting conditions possible. Depending on the time of year and the foliage available, your photographer will schedule your session at the best time possible. The early morning and late afternoon hours, often referred to as the "golden hours," offer soft, warm light that adds a magical touch to your portraits. 
Choosing the Perfect Spot at Arbor Hills
No need to worry about finding the perfect spot at Arbor Hills if you are booking your session with Loomis Lane Photography. We know the vast trail systems and can locate the best spots for your portraits. Whether you prefer open meadows, serene woodlands, or panoramic views, Arbor Hills has it all.
Wardrobe and Props
Your session with Loomis Lane Photography includes access to our full client closet. This will be discussed in detail at your consultation before your portrait session. We will provide all blankets and accessories needed during the session. If you have anything in mind, please discuss it with your photographer before the session. 

Hiring Loomis Lane Photography
While capturing your own photos is always an option, hiring Loomis Lane Photography can elevate the quality of your portraits. Our skilled photographer understands lighting, composition, and framing, ensuring that your photographs reflect the true beauty of Arbor Hills and capture your precious moments flawlessly.
Capturing Precious Moments
Let's look at two types of portrait sessions available. 
Maternity Portraits
Expecting mothers can document their journey into motherhood with stunning maternity portraits at Arbor Hills. The tranquil atmosphere and breathtaking scenery provide an enchanting backdrop to capture the anticipation and joy of this special time. Whether you prefer solo shots or including your partner and children, Arbor Hills offers endless possibilities.

Family Portraits
Arbor Hills Nature Preserve is the perfect spot for capturing heartfelt family portraits. Immortalize the love, laughter, and bond shared within your family amidst the beauty of nature. The preserve's captivating landscape and diverse amenities ensure that every family member feels comfortable and engaged, resulting in timeless photographs that will be cherished for years to come. These images will look stunning on your walls.

If you are searching for the perfect spot for a maternity or family session in Plano, Texas, Arbor Hills Nature Preserve is the best spot. It has scenic trails, breathtaking overlooks, engaging playgrounds, and other amenities, Arbor Hills provides an enchanting setting to capture your most precious moments. Celebrate the joy of family and the beauty of nature with photographs that will be cherished for a lifetime.

Schedule your maternity or family portrait session today by sending us a message here. Contact Us